In a letter dated 13 January 1967, André Malraux wrote to Serge Poliakoff : " ...for a long time I've held you te be one of the great living painters, and I tell anyone who will listen". If there is one word to define Poliakoff, it is indeed 'living'.
When I met Timothy Taylor , I understood immediately that through him, Poliakoff would be revived and brought to life.
"How beautiful the world has become. What a pity that I should be in my declining years. If only I coulbe be reborn" Serge Poliakoff
Forty eight years later, and more and more each day, Poliakoff has succeeded in being reborn. Timothy Taylor has chosen to exhibit Poliakoffas a living artist, allowing a new generation to discover him and above all, showing his incredible modernity.
Poliakoff is timeless and independent, as the gallerist Denise René often reminded us with a phrase that my grandfather regularly used : "The lion hunts alone".
Critics will often group artists together, but these very classifications can often suffocate artists or make them disappear. Fashion exhausts them : even those who have a tremendous impact can be consigned to History. Their works are preserved in museums or in basement storerooms, resurrected for exhibitions and then forgotten again by our collective memory.

This exhibition is remarkable in two ways. Firstly, that it takes place in London, the city where everything began for Poliakoff, and secondly, because it features his seminal painting Forme bleue sur fond rouge (1950). this work once belonged to Philippe Dotremont - one of the era's most important Belgian collectors of modern art - a man with a cutting-edge eye, and the first person to have bought and believed in Yves Klein.
During Poliakoff's 1953 exhibition at the Palais des Beaux-Arts in Brussels, Dotremont acquired Forme bleue sur fond rouge and until now it has remained in his daughter's collection.

Writing about the 1953 exhibition in the Brussels journal, La Lanterne, Henri Kerels said : " Poliakoff only prouves one thing, that he is one of the most powerful, perfect and admirable abstract painters of our era... his is healthy, instinctive painting, as pure as spring water".

Dotremont owned many Poliakoffs, one of which was later acquired by the Centre Georges Pompidou, as the French President was one of Poliakoff's great admirers. Museums have ofter paid homage to Dotremont's extraordinary contemporary vision, with exhibitions formed from his collection being held at the Stedelijk Museum in Amsterdam in 1954 and at the Guggenheim in New York in 1959.
Forme bleue sur fond rouge was shown as part of Poliakoff's solo presentation in the French Pavilion at the XXXI Venice Biennale in 1962, the moment that would lead to his French nationalisation.
In October 2013, this painting was once again included in a retrospective at the Musée d'Art Moderne de la Ville de Paris, which presented an impressive overview of Poliakoff's work and its impact on both art history and contemporary art.
In the present context, revisiting this important painting allows us to step back and trace Poliakoff's experience in London, and to relive the very first steps of his journey. Forme bleue sur fond rouge is his banner, his standard, his colours, his icon, the key to the vault of this exhibition, and perhaps even to his work as a whole. Significantly, this painting heralds the beginning of his later years which were both his most interesting and his most diffcult, but without doubt the most satisfying.

Poliakoff was always consistent, and never stopped forging ahead on the path ha had chosen - an infinite search for perfect balance where forms would position themselves within an absolute silence.

At the age of 18, Poliakoff left Russia, never to return, in one fateful moment when he changed trains at the Norowskov sation, south of Moscow. He knew that his future was uncertain during this time of political upheaval at the end of Tsarism. With his youthful spirit and thirst for adventure, he took a risk and set out on the path of a person living in exile.

After some twists and turns, he joined the White Army where he was reunited with his aunt and uncle. It was at this juncture that Poliakoff's incredible journey began. After a long journey across the Caucasus they reached Batumi on the Black Sea, where they boarded the Semiramis cargo ship, which had been stormed by a tide of emigrants. Poliakoff joined the family gypsy orchestra. He continued to play guitar professionally until 1954, as it provided him with consistent financial security. With them, he spent years on the road, travelling through Belgrade, Sofia and Berlin, before arriving at the Russian cabarets in Paris in 1923. Once he had experienced the buzz of Paris, he was so dazzled by the city that he refused to continue with his aunt on the route to New York.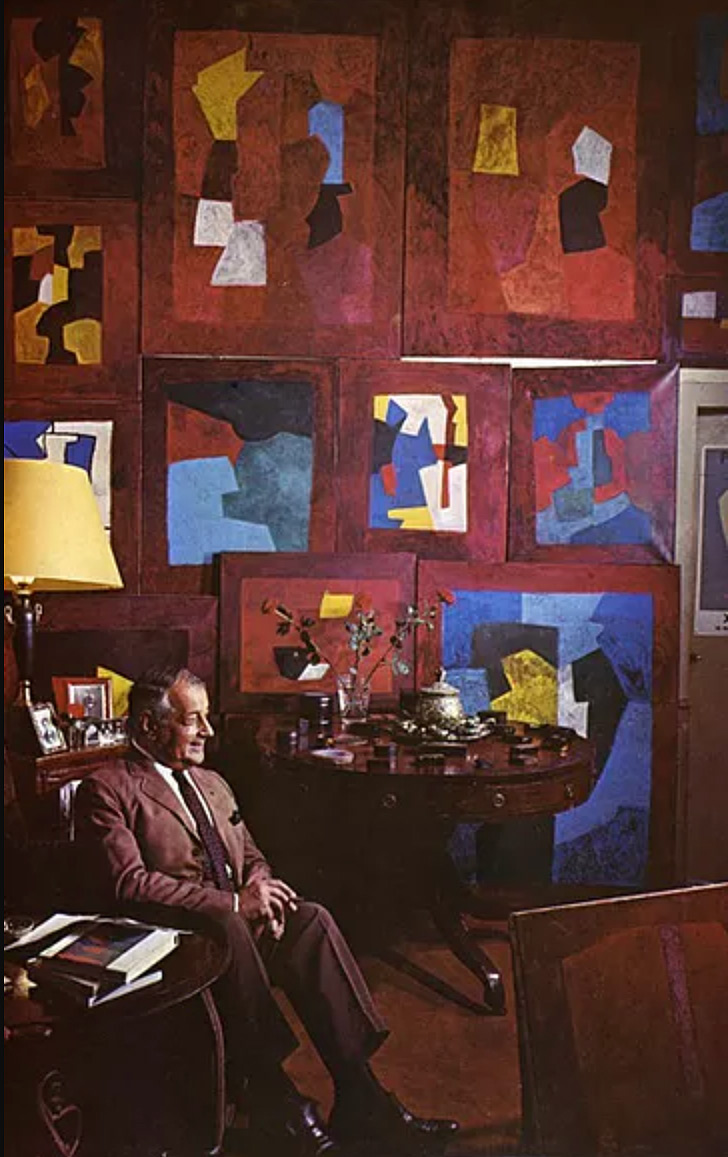 You are never alone in Paris. Serge Poliakoff
In Paris, he spent his time mainly in the theatrical world, befriending Yul Brynner and Joseph Kessel, who would be his companions for life.
In 1929 he enrolled in art school, and realised that nothing had made him so happy in many years.

His first work, a figurative piece, was exhibited in 1931 and noted by the press.

I had worked for more than ten years and felt that painting was my vocation, my mission in this world. Serge Poliakoff
In 1935, having fallen under the spell of Poliakoff - a handsome Kyrgyz who she met in a Russian cabaret in Paris - my grandmother stole him away to live in London.

London was Poliakoff's first home. The concept 'home' signifies happiness, friends, family, a newly found fulfilment. In London, he was 'at home', feeling the same completion he had experienced as a child in Russia.

Poliakoff studied at the Slade School of Art and at the Grosvenor School of Modern Art, devoting himself to research and contemplating the masterpieces in the British museums. He discovered the canvases of Turner, amongst others, and the first abstract paintings that emerged from the Chelsea Polytechnic (now the Chelsea College of Art). During this time he also unlocked the secret of how to make the colour pigments for which he is renowned. On one of his visits to the British Museum, he took advantage of the guard's absence, and used his penknife to scratch the paint on an Egyptian sarcophagus. He detected then that each successive layer revealed a radiance, an intensity of colours whose transparent effect gave life to the material. The colour or the tonality of the colour do not matter, the only thing that counts is the quality of the colour. Serge Poliakoff

After spending two years in London, where they married in Chelsea on 28 March 1936, Marcelle and Serge Poliakoff decided to return to Paris in 1937.

For Poliakoff, every move and each new experience taught him more about himself. These formative encounters were characteristic of the Russian diaspora of the interwar years.

During the Second World War, his life became a succession of exciting and dangerous adventures. He was saved in extremis many times, traversing these precarious years that finally triumphed in the Liberation of Paris, and the birth of his son Alexis.

Wassily Kandinsky brought about a key turning point in Poliakoff's life. His relationship withe the 'Master of Abstraction' encouraged Poliakoff to persevere in his own artistic research, which was more sensual than the mathematical vision of the older painter, who said of him : "For the future, I'm betting on Poliakoff".

As this important friendship grew, Poliakoff also befriended the painter Otto Freundlich, who had a marked influence on him.

Sonia and Robert Delaunay opened the doors of their workshop to him and other young artists, generously offering their teaching. A friendship ensued which would last for the rest of their life.

In 1937, Galerie Zak in Paris organised Poliakoff's first solo exhibition and one could already see the first indications of his future compositions in Danses Russes (a group of early gouaches exhibited there).
In 1945, the Galerie de l'Esquisse exhibited his first abstract canvases and this was followed by a series of exhibitions that continued until the end of his life.

He joined Denise René's stable of artists in 1946 and collaborated with her for many years as she became the great French figurehead of Abstraction.

During this time he met the art critic Charles Estienne who, in 1952, introduced him to his greatest collectors and lifelong friends Ida Chagall and Franz Meyer. Erica Brausen, the founder of the Hanover gallery in London, met Poliakoff in 1957 during an exhibition of gouaches organised by Heinz Berggruen in Paris. The following year, Brausen who had famously discovered Francis Bacon, held the first Poliakoff exhibition in the United Kingdom. A few years later, Bryan Robertson (ith the help of John Russell of New York Times and Brausen) organised the first UK museum retrospective of Poliakoff's work, which took place at the Whitechapel Art Gallery in April 1963. Pierre Rouve wrote of the exhibition : "His art, flowering in a perpetual present is also the art of limitless presence".
Within a decade, significant museums and galleries across Europe, America and Asia were all exhibiting Poliakoff's work.
During the 1960's, he fully enjoyed this long-deserved recognition. All those who have crossed Poliakoff's path, both past and present, have played an important part in his story : friends, collectors, art dealers, art critics, journlists, curators, art historians, photographers and fans. They have all occupied a determining role in making Poliakoff immortal.
The list is long, but from memory I can recall Dora Vallier, Dina Vierny, Michel Ragon, Gildas Fardel, Myran Eknayan, Atlan, Mortensen, Camille Bryen, Jacobson, Franz Larese and Jürg Janett from the Erker Galerie, the Cavaleros, John Lefèbre in New york, Roland Balay, Emile Gilioli, Jean Messagier, Pierre Dimitrienko, Serge Rezvani, Zoran Music, Piero Dorazio, Pierre Soulages, Mr Bing, Jean Cassou, Ben Nicholson, Gualtieri San Lazzaro, Maria Papa, Marie Raymond, Igor Troubestkoy, Pierre Janlet, Erasme Touraou, Alla and Bénédict Goldschmit, Jean Leymarie, Bernard Antonioz, Jacques Lassaigne, Otto Stangl, Arnold Rudlinger, Pierre Rouve, John Cheim, Joe Fyfe, Brooks Adams, Gérard Durozoi, Dominique Gagneux, Fabrice Hergott…

What would the past be without the future ? It is with great passion that our family protects the memory of our father and grandfather who knew how to share with us his unquenchable thirst for life. He never looked back. Hidden in his dark eyes was a devastating Slavic melancholy but he only ever had a radiant and ravishing smile on his face. He expected a lot from us, and wanted us by his side always. His strong presence, even when he was silent, magnetised us and his kindness still protects us so that we can face the torments of eternity, as our duty and our pleasure lie in proloning his existence.
I know that Poliakoff would be very proud of this exhibition. He would have been very moved to return to London to find himself in the company of his friends Hans Hartung and Antoni Tàpies, as well as to be in the proximity of young artists, which he loved so much.
How strange it is, in life as well as in art, that man looks everywhere, when what he his looking for is right beside him. Serge Poliakoff
Marie Victoire Poliakoff, December 2014