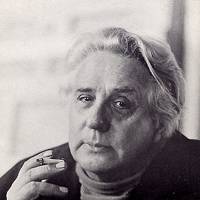 Emile GILIOLI
Biography
+
Follow Emile GILIOLI
Émile Gilioli was born on June 10, 1911 in Paris.
After the First World War, the family, Italian shoemakers, moved closer to Italy and settled in Nice.
In 1932, Émile Gilioli took lessons at the School of Decorative Arts in Nice, in particular with the future artist Marie Raymond.
During the Second World War, he was mobilized in Grenoble where he spent the rest of the war. He met Andry Farcy, curator of the Museum of Fine Arts in Grenoble, and introduced him to Cubism.
After the war, Émile Gilioli moved to Saint-Martin-de-la-Cluze, near Grenoble, where he sculpted in his workshop. His art is associated in some way with facts from the French Resistance.
In 1947, he exhibited new realities in Paris at the show.
In 1949, he participated in the first Salon of young sculpture in the garden and the chapel of the Rodin museum in Paris. The first salon welcomed 63 sculptors including Émile Gilioli, Emmanuel Auricoste, Étienne Hajdu, Baltasar Lobo and Berto Lardera.
From 1954, he participated in collective exhibitions with other artists, such as Étienne Martin, Alicia Penalba, Marino di Teana, François Stahly, Simone Boisecq or Jean Weinbaum.
In 1956, he moved to Vaugirard where his workshop still exists.
He died on January 19, 1977 in Paris.
In 1997, for the twentieth anniversary of his disappearance, the municipality of Saint-Martin-de-la-Cluze decides to acquire the house and workshop of Émile Gilioli, thus responding to the will expressed by Babet Gilioli, his wife , to create a place in memory of the artist. In 2004, the workshop-house was transformed into a museum-library which now hosts a permanent exhibition which traces his work.
The same year, the Maillol museum organized an exhibition in his honor from February 27 to May 15, 1997 in Paris.