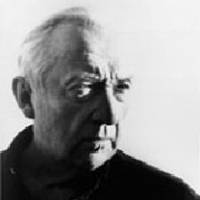 Pierre SOULAGES
Biography
+
Follow Pierre SOULAGES
Pierre Soulages was born in Rodez (Aveyron) on December 24, 1919.
His childhood is marked by the harshness of the landscapes and the souls that surround him. At the age of 18, during a brief stay in Paris, Soulages visits two exhibitions (Cézanne, Picasso) that will be as many revelations. He will be a student of Fine Arts in Montpellier.
Soulages will devote itself exclusively to painting immediately after the war. He moved to Paris, then had a workshop built in 1959 in Sète, sharing his time now between the two places. His life will now be entirely focused on his work and the exhibitions that will follow. Very early the artist will be in possession of the phrasing of his art. Lavis, charcoal drawings, abstract paintings, black or brown calligraphic signs taking possession of the white surface.
The artist will participate in many collective exhibitions from 1947, in France and abroad; he will never cease to participate and will receive his share of distinctions. Similarly, from 1949 until today, his works will be shown in a multitude of personal exhibitions (Museums, galleries).
It should be noted that in 1996, after Seoul and Beijing, the Museum of Modern Art of the City of Paris organized a vast retrospective Soulages. The artist, parallel to painting, worked for the theater. He made, from the beginning of the years 50, a engraved and lithographed work which will be important. In 1957, he discovered the technique of the gnawed brass which will be strongly inscribed in the characteristics of his graphic art. Soulages will make tapestries, will design (1987-1994) stained glass for the Abbey Church of St. Foix Conques.
In 1976, Soulages approached the sculpture and appeared his first bronzes. Always Soulages will impose his art as so many lightning gestures, whole and obvious.