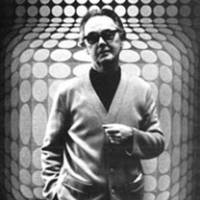 Victor VASARELY
Biography
+
Follow Victor VASARELY
Born in Pécs, Hungary, on April 9, 1906, Victor Vasarely studied medicine, leaving after three years. He then became interested in the Bauhaus and studied at Műhely de Sándor Bortnyik in Budapest from 1928 to 1930.
In 1930, Vasarely moved to Paris where he began as a graphic artist in advertising agencies such as Havas, Draeger, Devambez. It was here that he made his first major work, Zebra (1940), considered today as the first work in the Op art genre. For the next two decades, he developed his own model of geometric abstract art, working in a variety of materials, but employing a minimal number of shapes and colors.
Vasarely worked for many companies and metamorphosis, with his son Yvaral, in 1972, the logo of Renault. With his wife Claire, he created the Vasarely Foundation, recognized as a public utility in 1971 (Didactic Museum of Gordes 1970 - 1996 and the Architectural Center of Aix-en-Provence in 1976).
Victor Vasarely is the father of the visual artist Yvaral (1934 - 2002), and the grandfather of Pierre Vasarely, his universal legatee and holder of moral rights, President of the Vasarely Foundation since July 2009.
Victor Vasarely died in Paris on March 15, 1997.