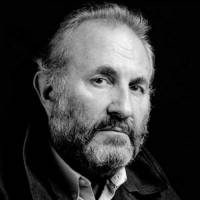 Riccardo LICATA
Biography
+
Follow Riccardo LICATA
Riccardo Licata was born in Turin in 1929. After a brief stay in Paris, his family moved to Rome where they stayed until 1945.
Riccardo Licata moved to Venice the following year. The young man studied at the Academy of Fine Arts in Venice (1947-1955). His first solo exhibition will be held in Venice in 1951.
He obtained a grant from the French government in 1957 and joined Paris where he studied engraving in the workshops Friedlaender, Hayter (Workshop 17), and Henri Goetz. Licata becomes Gino Severini's assistant at the Italian School of Art in Paris. In 1961, he was appointed professor of mosaics at the Ecole Nationale Superieure des Beaux-Arts in Paris, professor of visual arts at the Sorbonne and engraving at the Academy Goetz (Paris) in 1969, then, from 1972 and until 1992, will occupy the same position at the International School of Experimental Engraving in Venice and at the American School of Architecture in Fontainebleau.
With his great experience in art, Riccardo Licata himself became a painter, engraver, mosaicist, sculptor, scenographer and began exhibiting in Venice and Florence with the group of Young Abstract Painters.

Licata's work will be shown in over 300 exhibitions in 35 different countries. From 1952, he will be exhibited at the Venice Biennale, the San Paolo Biennial (Brazil), Tokyo, Paris, Ljubljana, Alexandria (Egypt) and the Quadrennials of Rome, the Triennals of Milan, as in the main Parisian salons.