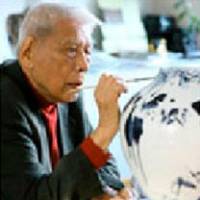 Teh-Chun CHU
Biography
+
Follow Teh-Chun CHU
Son and grandson of doctors, scholars and collectors of calligraphy and paintings, Chu Teh Chun was born on October 24, 1920 in China.
He entered the Hangzhou School of Fine Arts in 1935. On July 27, 1937, the Sino-Japanese war broke out, causing the exodus of universities to the west of China, reached in Kunming in 1939 in Yunnan and then settled in Songlinkang in Sichuan where professors and students arrived in 1940. In 1941, he was appointed assistant professor in his own school and full professor in 1942 at Nanjing University, near Chongqing.
In 1949, he moved to Taipei, and became a professor at the School of Industry, Architecture Section, in 1950. In 1951, he was a professor at the National Normal University where he taught Western painting. On March 29, 1955, Chu Teh-Chun embarked for Europe, and moved to Paris. He paints landscapes of Paris, draws at the Académie de la Grande Chaumière, visits the Louvre, galleries and exhibitions.
A trip to Spain made him discover the Prado and Goya, Toledo and the works of Greco. In 1956, he discovered "de visu" abstract art, especially during the retrospective Nicolas de Stael. From 1956 to 1961, he met his first successes in Paris, and since 1964, his reputation spread abroad at exhibitions at the Carnegie Art Museum, Pittsburgh, Jerusalem, Athens, and in 1969, at the Biennale of Sao Paulo.

In 1976, he returned to the calligraphy he practiced in his youth. In 1983, he sits on the jury of the Chinese University of Hong Kong. He travels to Beijing, where he is invited by the Union of Chinese Artists. His fame, part of the West, now extends to Asia.

In 1987, the National History Museum of Taipei organized a major retrospective exhibition, allowing him, for the first time in thirty-two years since leaving his country, to show all of his work.
Chu Teh-Chun was elected in 1997 at the Academy of Fine Arts, painting section, in the chair of Jacques Despierre and Dean of the Academy of Fine Arts since the death of Marc Saltet (1906-2008).
Chu Teh-Chun died in Paris in 2014 at 93 years old.