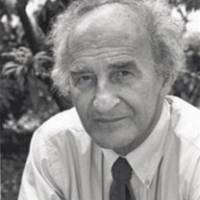 Eduardo CHILLIDA
Biography
+
Follow Eduardo CHILLIDA
Eduardo Chillida Juantegui, born on 10 January 1924 in San Sebastián, Spain.
Before being a sculptor, Eduardo Chillida was the goalkeeper of Real Sociedad. It was because of a meniscus injury that he had to put an end to his career.
From 1943 to 1947, Eduardo Chillida studied architecture in Madrid.
In 1947, he dropped out of school and attended the Art Academy in Madrid. He decided to devote himself to sculpture and exhibited in Paris in the early 1950s (first exhibition in 1949 at the Salon de Mai), and moved to the Spanish Pavilion of the Cité Universitaire. There he meets Brancusi and Spanish painters and sculptors.
That same year, he returned to San Sebastián to marry Pili de Belzunce and took part in a collective exhibition at the Maeght Gallery.
In 1954, he made his first personal exhibition at the Clan Gallery, Madrid. That same year, he sculpts the bas-relief doors of the basilica of the Franciscan monks of Arantzazu. In 1956, his first major exhibition took place at the Galerie Maeght, Paris, and became one of the artists of the Gallery.
In 1958, he exhibited at the Spanish Pavilion at the Venice Biennale, and made his first trip to the United States, where he participated in an exhibition at the Guggenheim Museum in New York, and the Pittsburgh Museum of Art, Carnegie Institution. He received the Graham Foundation Award, as well as the Kandinsky Prize by Nina Kandinsky in 1961. In 1962, he made a solo exhibition at the Kunsthalle Basel and took part in the exhibition "Three Spaniards: Picasso, Miró, Chillida" of the museum Houston Fine Arts. In 1964, he once again exhibited at the Maeght Gallery, received the Carnegie Award for Sculpture at Pittsburgh International and participated in a group exhibition at the Tate Gallery.
His works on paper are an important part of his creation. In ink, in pencil, or through the technique of engraving, his works follow the same principle as his sculptures.
The artist has won numerous awards for his prints (etchings) and for his sculptures. In 1958, Chillida represented Spain at the Venice Biennale. In 1998, the Reina Sofía Museum in Madrid devotes a large exhibition to him.
Chillida died in 2002.