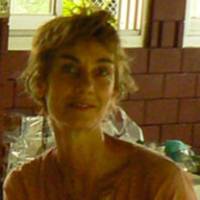 Véronique NEROU
Biography
+
Follow Véronique NEROU
Graduated from the Ecole Nationale Superieure des Beaux Arts in Paris.
Selected and exhibited at the Institute as part of the Paul Louis Weiller Portrait Prize (International Drawing Competition).
Portraitist activity with which she finances her studies and begins her career as a painter (1987-2008).
Lived for six years in Mexico and traveled to Central America (1990-1996).
The search for poetic vertigo will provoke the impulse, the need to make the "big leap", to discover India. Since 1996 I share my life between India, Southeast Asia and France . During my walks, I note my impressions with sketches on the pattern, collect these small treasures offered by nature, roots, shells, pebbles, take pictures to memorize a play of light.
This harvest of things seen and observed will allow me to elaborate my pictorial universe in the workshop.
Among the paintings begun some will know many transformations before reaching their fullness. A canvas waiting will never be abandoned because it has the advantage of being a frame, a colored background on which everything is still possible, becoming.
At the sight of a light, a landscape I go in a session to establish a correspondence between the motif and the canvas which will find its reason for being.
Game between fast and dazzling notations and the slower construction of the composition.