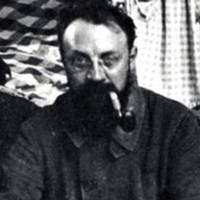 Henri MATISSE
Biography
+
Follow Henri MATISSE
Considered with Picasso as one of the most illustrious painters of the twentieth century, Matisse was born in Cateau-Cambrésis, in the North, on December 31, 1869. But while Picasso has just completed in anguish and violence Les Demoiselles D'avignon ( 1907), Matisse writes: "What I dream is an art of balance, purity, tranquility". This triple search will be that of his entire career.
In Paris, he meets Marquet, works at the Beaux-Arts with Gustave Moreau who interests him in Muslim art. In 1905, with, among others, Derain, Vlaminck and Marquet, he exhibited at the Salon des Independants and appeared as the leader of those whom the critics had to pejoratively call "the wild beasts". Numerous masterpieces mark out these wild years: The Joy of Living (1905-1906), The Still Life on the Red Carpet (1906) or The Dessert, Red Harmony (1908).
Matisse's activity was not limited to painting; his drawings with pen, charcoal or brush seduce by the perfection of the line and the economy of means. Also an engraver, Matisse illustrated, among others, Mallarmé, Beaudelaire and Ronsard. Finally he made about sixty sculpted works, whose major achievement is the Nu de Dos (1910-1930, four successive states, London, Tate Gallery).
Matisse died in Nice on November 3, 1954.