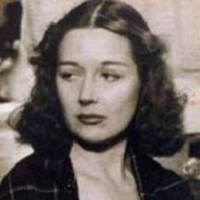 Dorothea TANNING
Biography
+
Follow Dorothea TANNING
Originally from a Swedish family, Dorothea was born in Gales Burg, USA, Illinois on August 25, 1910. She began art studies and began drawing.

It was in 1930 that she left her family for Chicago where she attended for a short time the Academy of Arts Institutes.
In New York, she earns her living thanks to the advertising design. The great exhibition "Fantastic-art, Dada, surrealism" of 1936 definitively directs his artistic career.
In 1942, she became part of the group of surrealists gathered in the same city, around André Breton.
Dorothea meets Max Ernst in 1943, on the occasion of an exhibition of women painters where she exhibits her self-portrait "Birthday". They spend the summer in Sedona in the Arizona desert, where they will stay most of the time until 1956. In 1949, she makes a stay in Paris, creates her first album of lithography: "the seven spectral perils" . In 1952 will be held his first exhibition in Paris at the gallery Furstenberg. In 1954, she went to exhibit in London. The Tanning-Ernst couple will move to Huisme en Touraine. Nevertheless, they keep a foot in Paris.
Dorothea and Max Ernst, after having repeatedly visited the friend of the latter, Patrick Walberg, decided to settle in Seillans. In 1972, Dorothea worked in the studio of Pierre Chave, lithographer in Saint-Paul de Vence. In 1974, the National Center of Contemporary Art in Paris held a major retrospective of his work.
In 1976, Max Ernst died.
In 1980, Dorothea definitely returned to New York, where she continued her work. In 1986, she published her memoirs: "Birthday". In 1994, Dorothea returned to Seillans for a few days to inaugurate "The Genie de la Bastille".
She died on January 31, 2012 at the age of 101.