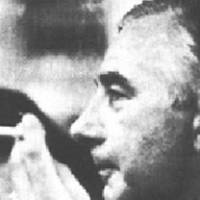 Gustave SINGIER
Biography
+
Follow Gustave SINGIER
Gustave Singier was born on February 11, 1909 in Warneton (Belgian West Flanders).
Arrived in Paris in 1919, he followed from 1923 to 1926 the courses of the Boulle school, worked from 1927 to 1939 as a draftsman in a store layout company and turned to painting.
In 1936, Singier meets Charles Walch who puts him in touch with the world of painting and begins to exhibit in Salons. In 1939, he met his neighbor, Alfred Manessier, his friends Elvire Jan and Jean Le Moal. Mobilized the following year in the Belgian army, he was sent to Bagnols-sur-Cèze after the invasion of Belgium. From 1941 to 1944, he worked in his father's cabinetmaking workshop.
Singier participates in the exhibition "Twenty young painters of French tradition" organized in 1941 by Jean Bazaine, first exhibition of avant-garde painting under the Occupation.
In 1945, he exhibited at the Salon de Mai which he is with his friends one of the founders. He is naturalized French in 1947 and befriends the poet Jean Lescure. In 1949, the Billiet-Caputo Gallery presents its first solo exhibition.
From 1951 to 1954, he taught at the Académie Ranson, then from 1967 to 1978 at the Ecole Nationale Superieure des Beaux-Arts in Paris. He was a founding member in 1975 of Salon de Toulon, in 1976 Salon Vitry-sur-Seine, examiner in 1978 at the price of Rome.
Singier has produced numerous tapestry and stained glass boxes, mosaics, costumes and scenery (notably for Jean Vilar's T. N. P. and the Opéra de Paris). He illustrated with his engravings or lithographs several books (Camille Bourniquel, Robert Marteau, Julien Gracq, Jean Lescure).
He died on May 5, 1984 in Paris.