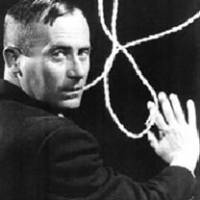 Joan MIRO
Biography
+
Follow Joan MIRO
Joan Miró, born on the 20th of April 1893 in Barcelona, is a Spanish painter, sculptor and ceramist, considered as one of the most prominent artist of modern art.
Attracted by the artistic community established in Montparnasse, he meets the Dada move in 1920, and influenced by the Surrealist poets and writers he develops after 1924 his unique style, a geography of coloured signs and of poetic forms in weightlessness placed under the double sign of coolness of invention falsely naive and of Catalan exuberant and barocco.
In 1926, he collaborates with Max Ernst for stage décors for Serge de Diaghilev. The technique of "scratching" is then experienced. Miró marries with Pilar Juncosa in Palma de Majorque on October 12th 1929 and became friend with Pablo Picasso and Kandinsky.
One of the most radical theoricians (and founder) of the Surrealism, André Breton, describes Miró as "the most surrealist among all of us". Miró expresses his provocative contempts for painting (at least the conventional one) and his desire of killing it and murder it in favour of new means of expression in many writings and interviews
in the 1930ies.
Joan Miró won in 1954 the award "Prix de l'Imprimé" at the Biennale de Venise.
Then the biggest museums in the world dedicated him retrospectives. He realised illustrations, lithographs and monumental sculptures for the Fondation Maeght. He's named Doctor Honoris Causa by Harvard University in 1968, and by Barcelona University in 1979, city where he creates his "Foundation Miró" in 1972.
In his last years, he is working to use several means of expression, producing for instance hundreds of ceramics,including the Wall of the Moon and the Wall of the Sun on the UNESCO building in Paris.
He dies on December 25th, 1983 in Palma de Majorca.