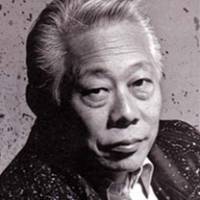 Wou-ki ZAO
Biography
+
Follow Wou-ki ZAO
Zao Wou-Ki was born on February 13, 1921 in Beijing. Coming from a family of great scholars, he spent his childhood studying calligraphy, then Chinese and Western painting at the Hangzhou School of Fine Arts from 1935 to 1941 where he became a professor from 1941 to 1947.
He is formed at the crossroads of two traditions that share the formation of young artists: the Chinese tradition (Song) and European academicism, crossing calligraphy, drawing from model, oil painting, linear and atmospheric perspective.
At the age of 27, he left for France in 1948. Arrived in Paris on April 1st, he moved to Montparnasse and took classes with Emile Othon Friesz.
In the 50s, he invented a plastic world, and even more so after 1957, which touches atmospheric abstraction, which he still paints today, a world that the sign itself abandoned around 1974.
This path, however, is punctuated by plastic and technical discoveries, according to a long and scrupulous apprenticeship, a methodical conquest of means and sources, alternating oil painting, techniques of engraving and calligraphy and painting. India ink much later.
In 1964, Zao Wou-Ki is naturalized French thanks to André Malraux. He has been a member since 2002 of the Academy of Fine Arts, the Institut de France in Paris, and has a time as a professor. Since 1983, he has been recognized and celebrated in China, where he was a professor at the Hangzhou School of Fine Arts.
He remains one of those figures who redefine the contours of cultural currents as China knows how to produce them.
He died on April 9, 2013 in Nyon and rests in the Montparnasse cemetery.