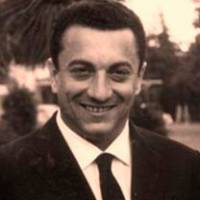 Marino MARINI
Biography
+
Follow Marino MARINI
Born on February 27, 1901 in Pistoia, Tuscany, Marino Marini returned to the Academy of Fine Arts in Florence in 1917 to study painting by Galileo Chini and sculpture by Domenico Trentacoste.
Thanks to his talent, he was invited by Arturo Martini in 1929 to teach Monza (near Milan) at the Villa Reale. He began exhibiting in Nice with the Novecento group, traveling to Paris and he received his first prize at the Quadrennial in Rome for his work.
Married in 1938 to Mercedes Pedrazzini, who became a faithful muse, Marino Marini left Villa Reale in 1940 for the sculpture chair of the Brera Academy in Milan where he stayed until 1943 before leaving for Switzerland after the destruction of his study. He sees or meets friends such as Fritz Wotruba, Germaine Richier, Alberto Giacometti, Haller and Banninger.
A room was dedicated to him at the 24th Venice Biennale in 1948. He then met Henry Moore, who became a faithful friend, and Curt Valentin, an American merchant who organized his exhibition in New York in 1950.
Increasingly in demand in Northern Europe, he was exhibited in 1973 at the Civica Galleria d'Arte Moderna in Milan for his portraits, and at the Neue Pinakothek in Munich in 1976, and in Japan in 1978 for his sculptures.
He died on August 6, 1980 in Viareggio. In Florence, the Marino Marini museum is dedicated to him, and Pistoia has created a documentation center around his works.