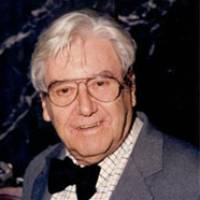 Roberto MATTA
Biography
+
Follow Roberto MATTA
Roberto Matta is a surrealist painter born on November 11, 1911 in Santiago de Chile. Matta begins with architectural studies in Santiago. He abandoned his Chilean career in 1933 for France. He first worked in Le Corbusier's studio then traveled to Spain, where he became involved with the poets Rafael Alberti and Federico Garcia Lorca.
At the request of Salvador Dali, he went to see André Breton, who declared him surreal, before being expelled from the movement in 1948 for obscure reasons, and then reinstated in 1959. He wrote in the Minotaure magazine texts on architecture that were opposes the rationalism of Le Corbusier among others. He develops the technique of psychological morphologies: we first spread the color on the canvas with a cloth, the color spread and inspire the subsequent drawing of the brush.
He goes to New York at the request of Marcel Duchamp to flee the war. Six months after his arrival, he exhibited for the first time in the United States at the gallery Julien Levy, specializing in surrealism. He lectures at the New School of Social Research and receives many young Americans in his studio, including Jackson Pollock.
In 1948, Matta leaves for Chile, where he publishes a text insisting on the "role of the revolutionary artist, who must rediscover new affective relationships between men", then for Italy, where he settled.
His political commitment is becoming increasingly important in his work. In 1952, the trial of Julius and Ethel Rosenberg inspired Les Rosenbelles (the Rosenbergs will be executed the following year). In 1964, to pay tribute to the communist leader Julian Grimau, executed in Spain the year before, he painted "The Powers of Disorder", a huge composition of 9 meters long.
In France, he took an active part in the events of May 1968. Finally, in 1973, he took a violent stand against the coup d'état of General Pinochet in Chile and cut all ties with his native country.
He died in Civitavecchia, near Rome, on November 23, 2002.