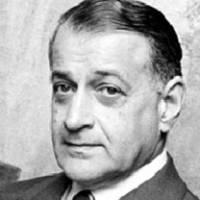 Serge POLIAKOFF
Biography
+
Follow Serge POLIAKOFF
On January 8, 1900, Serge Poliakoff was born in Moscow, where he began drawing lessons in 1914. In Nalchik, Serge Poliakoff, an adolescent, painted his first landscapes in the very place where Levitan, the head of the russian landscapers, was working. From the age of twelve, he already knew how to play the guitar. In addition, he was passionate about mathematics and algebra.
It was in 1918 that his exodus began throught Russia and the Caucasus. In 1919, he took refuge in Constantinople with his aunt, the famous singer Nastia Poliakoff, whom he accompanied on the guitar. From that moment, the guitar became his livelihood, and remained for more than thirty years. He toured Europe with his aunt Nastia. After Constantinople, they passed through Sofia, Belgrade, Vienna, Berlin - where they stayed for two years - to finally reach Paris. In 1929, after attending courses in various academies, he worked regularly at the Grande Chaumière, in Montparnasse. In 1933, he worked at the Frochot Academy in Montmartre.
In 1935, he left Paris for London where he attended, for two years, courses at the Slade School of Art. He married Marcelle Perreur-Lloyd, a french woman born of an Irish mother, living for several years in London. Their son Alexis was born in 1942. In 1945, his first exhibition of abstract paintings (works from 1942 to 1945) took place at the Galerie de l'Esquisse. In 1947, he received the Kandinsky Prize.
In 1951, he exhibited his recent works at the Galerie Dina Vierny and took part in various group exhibitions in Paris and abroad (England, Japan). In 1953, his first major exhibition (45 paintings and 5 gouaches) took place in Belgium at APIAW in Liège, at the Palais des Beaux-Arts in Brussels and at the Musée de Verviers. In 1954, his solo exhibitions multiplied, as well as his participation in exhibitions in France and abroad.
In 1962, naturalized French, he took part in the Venice Biennale, where a room was dedicated to him. In 1965, he received the International Prize of the Tokyo Biennale and the Grand Prix of the Menton Biennale in 1966. That same year, a major retrospective took place at the Kunstmuseum in St. Gallen, followed by another at the Maison de the Culture of Caen in 1968.
In 1969, he worked for his solo exhibition at the Museum of Modern Art in Paris, which finally took place in 1970.
On October the 12th, 1969, Serge Poliakoff passed away in Paris.