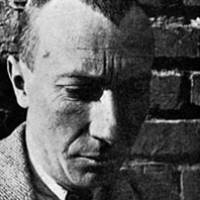 Hans ARP
Biography
+
Follow Hans ARP
Jean Arp or Hans Arp, born in Strasbourg September 16, 1886 and died in Basel, Switzerland on June 7, 1966 was a painter, a sculptor and a poet then German French.

Arp studied decorative arts in Strasbourg, Paris and Weimar, before devoting himself to poetry. In 1909, however, he met Paul Klee. He participated in exhibitions, including the Blaue Reiter, in 1912. In 1916 he joined the Dada movement in Zurich and Cologne. He illustrated several works from the "dadas" collection, such as Benjamin Péret's The Transatlantic Passenger, Tristan Tzara's Twenty Five Poems and a book by Richard Huelsenbeck. He began to sculpt in 1917. Close to the surrealists, from 1926 to 1930, he became a founding member of the group Abstraction-Creation.

On October 20, 1922, he married Sophie Taeuber-Arp whom he knew in Zurich, and whose tragic death in 1943 marked him deeply.
Arp is at the origin of a vocabulary of signs with figurative and ironic allusions. From 1930, sculpture in the round-bump takes an important place in his work. Numerous personal exhibitions were devoted to him after the war, as early as 1944 at the Peggy Guggenheim Gallery in New York, then at Galerie Maeght, Galerie Denise René Paris, and Sydney Janis in 1950. Arp became an internationally recognized artist.

In 1954, he received the International Sculpture Grand Prix at the Venice Biennale, was elevated to the rank of Chevalier of the Legion of Honor in 1960, received the Grand Prix National des Arts in 1963. Many of his works are now exhibited at the Museum of Modern and Contemporary Art in Strasbourg, which devotes a central space to it. His name was also given in the square serving as a square for this museum, as well as the building of the National School of Administration. His second wife, Marguerite Arp-Hagenbach, made Clamart's home-studio the Arp Foundation opened in 1979.

His last words were: "I love you all and I'm going now to join my Sophie. "