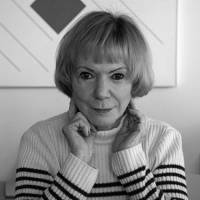 Geneviève CLAISSE
Biography
+
Follow Geneviève CLAISSE
Geneviève Claisse was born in Quiévy in 1935. Its pictorial vocation is born from the reading of the magazine «Art d'aujourd'hui», tribune of geometric abstraction. Her work is a rigorous exploration of this path and she will never be tempted to stray from it. "Schoolgirl, I was already abstract," she said.
In 1958, she adhered to the ideas of the current Abstraction Création created by Herbin. In 1960, his contribution to the Salon de Mai shows a work of organization of space rich in colors, where already the play of simple forms and that, subtle, of colors, strike by its vigor and its sensitivity. In 1961 her first exhibition was organized at the Denise René Gallery in Paris, where she has been exhibiting regularly.
In the 1965's, she accentuated the work on color. It was during these years that Geneviève Claisse stood out from the influence of Auguste Herbin and Mondrian. In the mid-1960s, triangle and circle become, treated separately, its formal vocabulary which introduces it into kinetic research applied to surfaces. It then focuses on the purification of its creations, always and inevitably geometric, both in terms of shape and color choice. Reflections and research accompany an overflowing creativity, in parallel with the development of optical art and kinetic art. In 1967, the Musée des Beaux-Arts de la Chaux-de-Fonds exhibits works from the past ten years, then a great Swiss collector exhibits in Zürich, alongside works by great masters of contemporary art, about thirty paintings of Claisse acquired between 1959 and 1967. Other important exhibitions will show his work over time (Oslo, Alençon, Lille, etc.). In 1989, a retrospective of his work was organized at the Matisse Museum in Cateau-Cambrésis.

She died in Dreux on 30 April 2018.