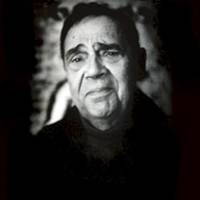 James COIGNARD
Biography
+
Follow James COIGNARD
James Coignard is a french Painter, sculptor, engraver born in Tours in 1925. He lived and worked in Antibes (Alpes-Maritimes).
He began his studies at the Ecole des Beaux-Arts in Nice in 1948. If his career begins with the Côte d'Azur to continue until his death, Coignard has been very itinerant, living besides a American period in New Orleans (1985-1988).
Her career as an artist is peppered with collective and personal exhibitions in France and abroad where her art is often recognized (Sweden, Switzerland, United States, France, etc.). To paint, of course, but also to carve (Glass Sculptures, Venice, 1961 / Bronzes in 1977), he will also realize and exhibit, in 1975, fourteen tapestries in Brno (Czechoslovakia). His recognizable engraved work, carborundum etchings (Henri Goetz process) essentially, began in 1968.
He will marry his talent to a large number of poets with whom he liked to make the path of a book. Until the 60s, Coignard painted in an expressionist spirit, soft colors and a highly worked material. His path leads to the abstract, consisting of random spots, regular shapes, typographic characters. The funds receive an important material, the harmonies are often brown or gray. The man had the right look, the word and the calm gesture that reflect, no doubt listening to the world around him with so much ugliness, so much beauty.
He died on March 7, 2008 in Mougins.