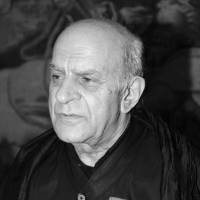 Alekos FASSIANOS
Biography
+
Follow Alekos FASSIANOS
Alekos Fassianos is a Greek painter born in Athens in 1935. He is internationally renowned for his figurative paintings, representing the contemporary world in a mythological way.
After graduating from the Athens Academy of Fine Arts, he moved to Paris in 1960 to study lithography at the Paris National School of Arts, where he met with several artists and writers.
Fassianos used to design the stage decorations for major classic and modern productions. His art has been exhibited in museums and galleries including in Athens, Paris and throughout Europe, as well as in Tokyo, New York, Sao Paulo and Melbourne.
In addition to private collections, his art works can be found in the following museums in France: the Paris Museum of Modern Art; the MAEGHT Foundation, San Paul de Vence; Center for Contemporary Art.
The artist presently lives and works in Athens.