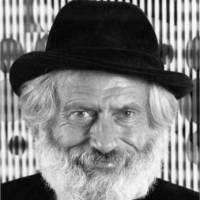 Yaacov AGAM
Biography
+
Follow Yaacov AGAM
Agam is an Israeli plastic artist born in 1928 in Rishon LeZion.
Coming from a practicing Jewish family and the son of a rabbi, Yaacov Agam went at the Bezalel School (1946-1948) led by Mordecai in Jerusalem. He deepened the theory of color and the principles of constructivism. At the same time, he works as a graphic designer in advertising agencies.
Agam settled in Paris in November 1951. It was the year he began to take an interest in kinetic art. He joined the abstract art workshop led by Jean Dewasne and got to know Fernand Léger and Auguste Herbin.
Since 1974, Agam's works include paintings as well as sculptures, monuments, architectures or videos, a medium that he is one of the first to use in France.
Unlike the works of kinetic artists, whose movement is generated, most often, by mobile elements of the work, those of Agam obtain their effect by the displacement of the spectator in relation to the work. The artist thus intends to give the public a new role and introduce into his work the notion of unpredictability which characterizes, according to him, the fourth dimension.