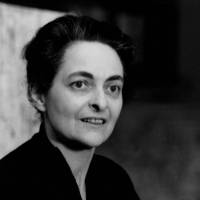 Maria Helena VIEIRA DA SILVA
Biography
+
Follow Maria Helena VIEIRA DA SILVA
Maria Helena Vieira da Silva was born in Lisbon, Portugal, on June 13, 1908.
At the age of eleven, Vieira da Silva began learning drawing and painting at the Lisbon Academy of Fine Arts.
She studied painting with Fernand Léger, Charles Dufresne, Henry de Waroquier, sculpture with Antoine Bourdelle, and engraving with Stanley Hayter and Johnny Friedlaender, all masters in their discipline.
She also created textile works (tapestries) and ceramics (stained glass).

She moved to France in 1928, where she married the Hungarian-born painter Árpád Szenes in 1930. She was naturalised as a French citizen in 1956.

In 1930 she exhibited her paintings in Paris. After a brief stay in Lisbon and a period spent in Brazil during the Second World War, she lived and worked in France, mainly in Paris, for the rest of her life.

She died in Paris on March 6, 1992 at the age of 83.