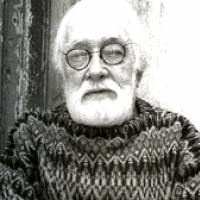 Jean-Gabriel CHAUVIN
Biography
+
Follow Jean-Gabriel CHAUVIN
Chauvin was born on March 30, 1889 in Rochefort sur Mer (Charente Maritime). He is the only survivor with his twin son André Joseph of six children. The themes of birth and twinning permeate all of his work.
His first known sculpture dates from 1906, a birch wood cut with a knife at the age of 17 and held will say later to have hidden under a heap of charcoal, from the gaze of a father hard-nosed against his vocation.
In 1908, at the age of 19, he arrived in Paris, between the school of Decorative Arts. We then find him at the School of Fine Arts in the workshop of the sculptor Antonin Mercié, he stayed there until 1915 because he was exempt from the arms service in 1914. He met François Pompon, whom he did not stay close to.
Between 1913 and 1920, Chauvin participated in the Salon d'Automne and that of the self-employed while working in Joseph Bernard's workshop where he participated in the cutting of the Frise de la danse (currently at the Musée d'Orsay). Member of the Salon d'Automne, he also exhibited two sculptures there in 1928. Moving definitively towards abstract sculpture, he was noticed by collector Jacques Doucet who bought him a sculpture.
In 1928, Chauvin made his first private exhibition at the Au Sacre du Printemps gallery. Taken over by Jeanne Bucher under her own name, she exhibited there until her death in 1947. During these years he became friends with Robert Rey, who became director of the Plastic Arts in 1944, as well as with Jean Cassou, founder of the National Museum of Modern Art.
In 1935, at the request of the architect Pierre Patout, he produced a large sculpture Fontaine Lumineuse for the liner Normandie.
In 1937 still at the request of Pierre Patout, Chauvin produced a monumental sculpture (11 meters high) in exploded concrete for the Pavilion of Decorating Artists at the Universal Exhibition as well as two large porcelain basins for the Pavilion of Sèvres.
From 1947 to 1955, under the aegis of Cécile Goldscheider (curator of the Rodin Museum) he exhibited in Bern, Prague, Amsterdam, Stockholm, Düsseldorf. In 1949, he made a private exhibition at the Maeght gallery (Paris).
Several exhibitions will follow until the end of his life. In 1962, he was chosen to represent France at the 31st Venice Biennale. In 1976, he donated 162 models of his sculptures to the National Museum of Modern Art.
He died on May 15, 1976.