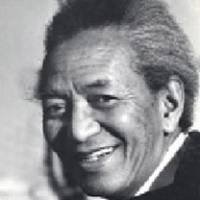 Wifredo LAM
Biography
+
Follow Wifredo LAM
Wifredo Lam was born on December 8, 1902 in the village of Sagua la Grande in Cuba.
His father was a Cantonese Chinese merchant based in Cuba. He was more than eighty-four years old when his eighth and youngest child, Wifredo Lam, was born. Wifredo Lam's mother was a mulatto.
From 1918 to 1923, he attended the School of Fine Arts in Havana. At the beginning of the autumn of 1923, he sailed for Spain where he lived for 14 years.
In 1929, he married Eva Piris, Spanish of Extremadura. A child is born to them the following year. In 1931, Eva and her son died of tuberculosis.
In 1938, Pablo Picasso met Wifredo Lam to whom he introduced all his friends (Joan Miró, Fernand Léger, Henri Matisse, Paul Eluard, Georges Braque ...).
In 1940, André Breton offers him to illustrate his book "Fata morgana". In 1941, he left Europe for Cuba with André Breton who wants to go to New York. But while he was thinking of returning to his native island, he was interned for 40 days on a small Martinique island.
Nevertheless, he will meet Aimé Césaire, whom he will become a friend. After a 7-month trip, he arrived in Cuba in 1942. After spending 10 years on the island, he decided to leave for 50 years in Paris.
He died on September 11, 1982, at the dawn of his 80th birthday.