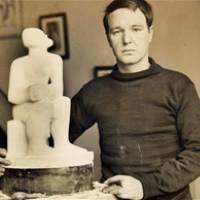 Henry MOORE
Biography
+
Follow Henry MOORE
Henry Spencer Moore, born July 30, 1898 in Castleford (Yorkshire County), is a British sculptor.
Born into a family of miners, he became famous for his large abstract sculptures in bronze and carved marble. Strongly supported by the British artistic community, Moore helped introduce a particular form of modernism to the United Kingdom, but often drawing inspiration from Greek mythology.

His ability to satisfy large-scale commissions makes him financially exceptionally rich towards the end of his life. However, he lives sparingly and most of his fortune goes to the Henry Moore Foundation, which continues to support arts education and promotion.

He dies on August 31, 1986 in Much Hadham (Hertfordshire County).