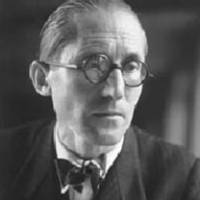 LE CORBUSIER
Biography
+
Follow LE CORBUSIER
Charles-Edouard Jeanneret, known as Le Corbusier, was born on October 6, 1887 in La Chaux-de-Fonds, Switzerland.
In 1900, he was a pupil of the school of art of La Chaux-de-Fonds, directed by Charles L'Epplatenier. In 1906, he made his first construction, the villa Fallet, La Chaux-de-Fonds. In 1907 he traveled to Italy and Austria.
In 1916 he began building the Schwob villa in La Chaux-de-Fonds. He moved to Paris in 1917 and met the painter Amédée Ozenfant. In 1919, he founded the magazine L'Esprit nouveau where he signed his articles: Le Corbusier. In 1924, he presented his first publication of Le Corbusier's work in Living Architecture.
In 1925, the Pavillon de L'Esprit Nouveau was presented at the International Exhibition of Decorative Arts in Paris. In 1928 he became an active member of the first International Congress of Modern Architecture (ICI) at Sarraz. Then in 1929 he built the Villa Savoye in Poissy, as well as the Centrosoyouz in Moscow. He adopted French nationality in 1930 and married Yvonne Gallis, a model of Monegasque origin.
In 1931, he built the Mandrot villa and in 1932 a Clarté building in Geneva and the Swiss Pavilion at the Cité Universitaire in Paris. In 1937, he presented the new Pavillon des Temps at the International Exhibition in Paris, where Eileen Gray was invited to exhibit his project of a Holiday Center.
In 1947 begins the construction of the Housing Unit of Marseille. In 1950 he was appointed advisor for the construction of the city of Chandigarh in India. In 1951 he began the construction of the chapel of Ronchamp. In 1952, the Cabanon was built in Cap Martin. He builds the Philips Pavilion presented at the 1958 Universal and International Exhibition in Brussels.
In 1965 he developed a project for the Venice Hospital.
Le Corbusier died on August 27, 1965 during a swim at Cap Martin. He is the subject of an official funeral in the Cour Carrée du Louvre and rests next to his wife in the cemetery of Roquebrune.