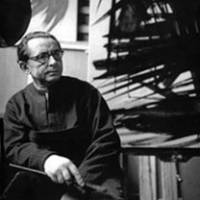 Hans HARTUNG
Biography
+
Follow Hans HARTUNG
Hans Hartung, born September 21, 1904 in Leipzig, is a German naturalized German painter, one of the greatest representatives of abstract art and the father of Tachism.
He is drawn to abstract graphic art since his adolescence and is passionate about Rembrandt, Holbein and Goya. He discovered French painting during an exhibition in Dresden.
While his first paintings are figurative, the use of aniline colors then inspires him a series of abstract watercolors.
He stays in Paris on the advice of his teacher and settles there. He obtains French nationality. A leader in lyrical Abstraction from the post-war period, he favors spontaneous gesture, a fluid and rapid touch, and uses a chromatic scale reduced to pronounced contrasts. Streaks and other shapes are obtained using objects such as tree branches.
Hartung unanimously won the Grand Prize for Painting at the Venice Biennale of 1960, a piece of the French pavilion is entirely devoted to his work.
He was made an Officer of the Order of Arts and Letters in 1960, and was made an Officer of the Legion of Honor in 1961.
During the sixties, black became the major color, embellished with scratches and incisions with acid colors. Black invades the canvas. Hans Hartung scribbles, scratches, acts on the canvas. Time, the pace of slowdowns and accelerations, slowness by stains, speed by the brush.
The artist, who in his studio turns his paintings against the wall, thinks his works close to reality, a reality that provokes the artistic act.
In 1980, a personal exhibition restricted to works before the war of 1939 is inaugurated at the Museum of Modern Art of the City of Paris by its mayor, Jacques Chirac, who, on this occasion, gives Hans Hartung the Medal of Vermeil from the city.
In 1989, Hans Hartung was elevated to the dignity of Grand Officer of the Legion of Honor by François Mitterand, President of the Republic.
Hans Hartung died on December 7, 1989 in Antibes.