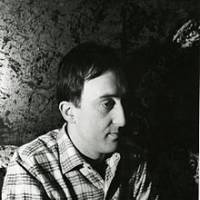 Enrico BAJ
Biography
+
Follow Enrico BAJ
Enrico Baj, Italian painter and sculptor, was born in Milan on October 31, 1924.
At a very young age, Enrico Baj marked his rejection of authority by making fun of fascist dignitaries, which caused him some trouble with the police. He studied at the Brera Academy of Fine Arts from 1945 to 1948.
Baj very early showed a predilection for collage, modifying by a few brushstrokes of glued wallpapers and conventional canvases, pious images or landscapes.

In 1951 he founded the movement of Nuclear Art with Sergio Dangelo.In the mid-50s, Baj painted heads of "Généraux" which he turned into a mockery by sticking on pieces of cloth and decorations forgotten or invented.
An admirer of Father Ubu and of Alfred Jarry's works, he made his first "Montagnes" in 1957, composed of jagged peaks and skies made of collages then invested with small monsters directed by a general with medals, of epaulettes and other devices.
Between 1959 and 1966, Enrico Baj approached the surrealists.In 1972 he directed "The funeral of Anarchist Pinelli", which expresses his horror of all forms of oppression.In the last years of his life, the artist paints a series of paintings in protest against the election of Silvio Berlusconi.
Enrico Baj uses the technique of collage by using diverse, rich and anachronistic materials and by playing on images that are sometimes naive, sometimes caricatural.His paintings are intended to be satirical and to mock the petty-bourgeois or military world.
He died on 16 June 2003 at his home in Vergiate, near Varese.