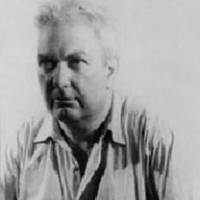 Alexander CALDER
Biography
+
Follow Alexander CALDER
Alexander Calder was an American painter and sculptor, born July 22, 1898 in Lauwnton (United States) of the union of two artists (a sculptor and a painter).
An engineer by training, he mainly made mobiles, assemblies of forms animated by the movements of the air, stabilizers "the sublimation of a tree in the wind" from Marcel Duchamp.
In 1923, he joined the Art Students League in New York where he studied with painters from the Ashcan School as John Sloan and George Luks. He will discover a fascination with the circus theme that will culminate in his circus Calder, a performance involving figures made of wire and in which the artist plays the role of master of ceremonies, conductor and puppeteer . He settled in France in 1927 and made contact with artists like Joan Miró, Jean Cocteau, Man Ray, Robert Desnos, Fernand Leger, Le Corbusier, Theo van Doesburg and Piet Mondrian in 1930 who will have a great artistic influence on him.
In 1931, he joined the group Abstraction-Creation, which is devoted to non-figuration. In 1932, he exhibited thirty of his sculptures described as mobile by Marcel Duchamp.
In 1943, the Museum of Modern Art in New York organized a first retrospective, followed in 1946 by an exhibition in Paris prefaced by Jean-Paul Sartre, and in 1952, he won the Grand Prix of the Venice Biennale. In 1958, he made the mobile Paris headquarters (ten meters high, two tons of black steel, five arms).
In 1962, he moved into his new studio Carroi, a very futuristic design and overlooking the valley of Basse-Chevrière Saché in Indre-et-Loire.
He died on November 11, 1976 in New York.
He was the most French of American sculptors, and had the genius to turn a sheet into a work of art and a tin can into a bird. He made the link between surrealism, abstract art and some of the most modern research, which he anticipated thirty years.