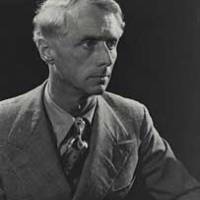 Max ERNST
Biography
+
Follow Max ERNST
Maximilien Ernst, born in Brühl (Germany) April 2, 1891, is one of the first German painters and sculptors major artist of the movements Dada and Surrealist. He studied philosophy, art history and psychiatry in Bonn. He starts drawing very early.
He exhibited in Berlin in 1913, met Guillaume Apollinaire and Robert Delaunay, then moved to Paris in the district of Montparnasse. After the war, Ernst founded the Dada movement in Cologne with Hans Arp. After a first personal exhibition organized in 1921, he moved back to Paris in 1922.
Two years later, he is one of the co-signers of the "Manifesto of Surrealism" and participates in all the exhibitions of the movement. He frequents Joan Miro then Alberto Giacometti, under whose influence he begins to sculpt. He is on the list of Nazi regime proscribed in 1933.
In 1940, Max Ernst is considered a spy of the Reich and, as such, is interned in France in a detention camp. He managed to emigrate to the United States in 1941 where he married Peggy Guggenheim, gallery owner and collector (they will separate the following year).
In 1946, he married the artist Dorothéa Tanning, returned to France in 1953, which he acquired nationality 5 years later.
Very early, Ernst will create "collective collages" that prefigure the famous exquisite corpses. In 1920, he illustrated the poems of Eluard and the future surrealists. He uses automatism and claims a surreal universe. In the 1920s, he tried out different themes of "hallucinations" that will remain recurrent in his work. A follower of experimentation, he will develop new techniques (scrubbing), scrapes, glue-on paper and decals.
It is in the United States that Ernst will develop the technique of "dripping". There, he will be interested in the art of Native Americans, integrating these worlds of mysterious powers into his works.
Ernst, who began painting without a master, who admired Van Gogh, Goya, Gauguin and Kandinsky, died in Paris on April 1, 1976.