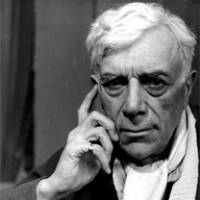 Georges BRAQUE
Biography
+
Follow Georges BRAQUE
Georges Braque was born in 1882 in Argenteuil (Val d'Oise), but his family moved to Le Havre when he was only 8 years old, a city where he grew up and studied painting at the Ecole des Beaux-Arts.
Having come late to Fauvism after being upset by the paintings on display at the Salon d'Automne in 1905, he left very quickly, discovering "The young ladies of Avignon" Pablo Picasso in 1907.
The first milestones of "Cubism" (as will be named Vauxcelles, the art critic, taking up a word of Matisse having cried out before the "Houses Estaque" that Braque cut the space into "small cubes") are now posed. Braque and Picasso will work together until 1914, when the first is mobilized and then seriously injured in the head (it will be trepanned).

After the war, and a long convalescence, Braque began to paint while remaining faithful to cubism, making it just evolve, to reach perfection, as for example with the famous painting "Fruits on a tablecloth and fruit bowl", in 1925.
He died on August 31, 1963 in Paris where he received a national funeral but was buried in the marine cemetery of Varengeville-sur-Mer (Normandy), a village where he had chosen to live.