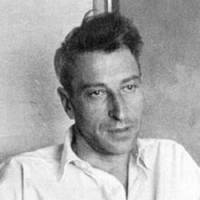 Nicolas DE STAËL
Biography
+
Follow Nicolas DE STAËL
Nicolas de Stael (Baron Nicolai Vladimirovich Stael von Holstein), born January 5, 1914 in St. Petersburg, died March 16, 1955 in Antibes, is a French painter originally from Russia, from a younger branch of the family of Stael- Holstein.
The career of Nicolas de Staël spans fifteen years (from 1940 to 1955), through more than a thousand works, influenced by Cézanne, Matisse, van Gogh, Braque, Soutine and the wild animals, but also by Dutch masters Rembrandt, Vermeer and Hercules Seghers.
His painting is always evolving. From the dark colors of its beginnings (Door without Door, 1946 or Resentment, 1947), it leads to the exaltation of color as in the Large Orange Nude (1953). His canvases are characterized by thick layers of paint superimposed, and an important game of materials, passing impastings with the knife (Compositions, 1945-1949), with a more fluid painting (Agrigento, 1954, Railway on the edge of the sea, setting sun, 1955).
Nicolas de Staël dies at the age of 41 while throwing himself by the window of his workshop of Antibes. He rests in the Montrouge cemetery.