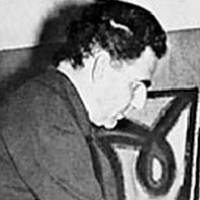 Jean-Michel ATLAN
Biography
+
Follow Jean-Michel ATLAN
Jean Michel Atlan was born in Constantine (Algeria) in 1913.

After his studies in Constantine, he came to Paris in 1930 to prepare a bachelor's degree in philosophy at the Sorbonne. He prepared the courses, while teaching in various provincial schools until 1940. He was dismissed by the Vichy government and moved to Paris. He wrote poems of a surreal nature, not yet painted. He then content himself sometimes to illustrate his poetry with simple drawings.
Atlan began painting in 1941, in the middle of the war. His first works were expressionist. He contacted the Resistance and was arrested by the Germans; interned at Sainte-Anne, he simulated madness, which allowed him to «get out». After the long-awaited liberation, in 1944 Atlan participated in his first exhibitions, collective and individual. This date will be the starting point for many other exhibitions.
From 1945, Atlan created abstract and fantastic figurative animal forms influenced by the high primitivism of the Cobra group and participated in its exhibitions. Around 1956, Jean-Michel Atlan's style was strengthened. Very marked black winding lines surround fields with pastel tones reminiscent of organic and plant associations and whose theme is combat and fantasy resulting from a vision of the agnostic and biologistic world. Atlan's artistic breakthrough in 1956 was due to a poster that the artist designed for the exhibition of the new "Ecole de Paris" in the Charpentier gallery and for an exhibition in the Bing gallery in Paris. In the 1950s, Atlan, considered one of the most important representatives of the "New School of Paris", enjoyed strong recognition in France as in Japan, but also in England and the USA.
The artist died of cancer in Paris in 1960.

It has already been paid tribute to Jean-Michel Atlan in 1963 by a retrospective at the National Museum of Modern Art. It leaves about 220 works to posterity among which one finds tapestries and illustrations.