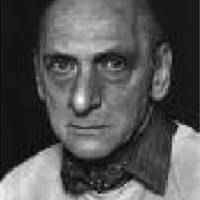 Johnny FRIEDLAENDER
Biography
+
Follow Johnny FRIEDLAENDER
Johnny Fiedlaender was born on June 21, 1912 in Pless, Upper Silesia (Poland).
From 1928 he studied painting at the Academy of Fine Arts in Breslau and made his first engravings. From 1930 to 1934 he lived in Dresden, making in 1932 a three-month stay in Paris. In 1935 he fled Nazism and fled to Czechoslovakia where he presented his first solo exhibition of engravings. Traveling through Austria, Switzerland, the Netherlands, Belgium and France, he settled in Paris in 1937. André Lhote supports him in La Nouvelle Revue Française. In 1938, Friedlaender is an illustrator for the weekly Marianne. From 1939 to 1943, like Hans Reichel, Max Ernst, Hans Bellmer or Ferdinand Springer, he knew several internment camps for foreigners, worked with the Resistance in the south of France and escaped the Nazi camps.
Back in Paris in 1945, Friedlaender made her first solo exhibition at the Galerie La Hune where he then exhibited each year. He etched etchings, Cosmic Dreams, with a text by Gaston Diehl. In 1949, he opened an engraving workshop, L'Ermitage, which Maria Elena Vieira da Silva, Zoran Music, Zao Wou-Ki and Nicolas de Stael, among others) attended, and the same year he made etchings for La Paul Eluard's Season of Loves From 1951 he made exhibitions in numerous museums in Europe, the United States and South America, French naturalized in 1952, he represented France at the Venice Biennale in 1958.
He died in Paris on June 18, 1992.