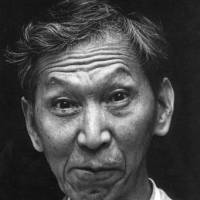 Kumi SUGAÏ
Biography
+
Follow Kumi SUGAÏ
Kumi Sugaï is a Japanese painter, engraver and sculptor born on 13 March 1919 in Kobe.
After training at the Osaka School of Fine Arts, where he discovered both calligraphic painting and Western currents, Kumi Sugaï began his career as a draftsman in a commercial agency. His encounter with Miro's work and that of Klee led him to an artistic career.
Kumi Sugaï left Japan in 1952 to settle in Paris. His first European works were inspired by kanji. During the 1950s, his plastic language became more materialistic. It was in 1958 that Sugaï used the sole force of the sign in large compositions called "emblematic".
At the dawn of the 1960s, shapes were simplified, the chromatic range reduced to a few bright or black colors to explore the different territories of geometric abstraction. At the same time he made some bronze sculptures.

During the 1970s, the works multiplied the kinetic effects in a spirit close to optical art. He represented Japan at the 1968 Venice Biennale. Sugaï's works are exhibited at the M.O.M.A. in New York, the Boymans Van Beurringen Museum in Rotterdam, the M.N.A.M. in Paris and in numerous Japanese museums.
He died on 14 May 1996 in Kobe.