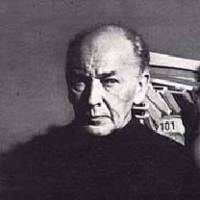 Hans BELLMER
Biography
+
Follow Hans BELLMER
French artist of German origin born in 1902 in Germany, Hans Bellmer is the creator of the surrealist object par excellence : the Doll (1934).
Young, he works in a steel mill, then in a coal mine. Encouraging his companions to the revolution, he escapes from prison. In 1923, he took classes at the Technische Hochschule in Berlin and met the initiators of Dadaism. Illustrator of books, painter, photographer, he is close to the surrealists.
When Hitler came to power in 1933, the young artist decided to stop any socially useful work to build a life-sized doll. Initially, a form of rebellion against authority (political, paternal), the provocative Bellmer doll becomes the instrument of an unprecedented reflection on the body and is therefore a reference for contemporary erotic expression. In 1938, he fled to France and joined the maquis after escaping from a camp. In 1943, Hans Bellmer organizes his first solo exhibition.
His work is violent and subversive : doll sculptures made up of bodies of nude models, photographs, engravings that fascinate the surrealists. Refined and daring, his drawings retranscribe the secret impulses and ambivalences of the erotic body. In 2006, the Center Pompidou devoted a retrospective, centered on the anatomy of desire, a concept at the heart of the singular creation of the French artist.
He died in Paris in 1975.