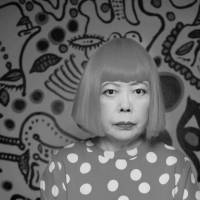 Yayoi KUSAMA
Biography
+
Follow Yayoi KUSAMA
Yayoi Kusama was born on March 22, 1929 in Matsumoto (Nagano prefecture).
Very early on, the little girl became interested in art and drawing. Her family suffered the brunt of the Second World War and Yayoi Kusama was mobilized for the war effort: she made parachutes and military clothing in a factory.
Marked by the figure of a very authoritarian father, the girl is in the grip of an obsessive delirium, suffering from visual hallucinations. She studies art, despite opposition from her parents, and begins to exhibit her work, although few women are raised to the rank of artists in conservative Japan. She makes the principle of accumulation the spring of her work, and the pea (polka dot) her favorite motif.
Supported by the American artist Georgia O'Keeffe, Yayoi Kusama arrived in the United States in 1957. Thanks to her new circle, notably to Donald Judd, she exhibited and designed installations in the early 1960s.
From 1966, Yayoi Kusama, which became popular in the United States, organized performances and happenings in emblematic places in New York: at the Museum of Modern Art, the Stock Exchange or the Statue of Liberty. These actions are very often sources of scandal, because of the nudity of the participants.
In his performances, Yayoi Kusama rarely stages himself but uses the body of others. It is based in particular on the butō, a avant-garde Japanese choreographic art, created just after the Second World War, and which explores the specificities of the body, slowly. Fashion and design have always interested her, she also creates polka dots clothing, whose aesthetic is inspired by traditional Japanese clothing.

After a period of high media coverage, the artist experienced a breathlessness in his career in the 1970s. Returning to Japan, she has lived since 1977 (and at her request) in a psychiatric establishment, only going out to work in her studio.

The 1980s brought the artist back to the fore as a great avant-garde figure. She was invited to represent Japan at the Venice Biennale in 1993. Her work has since been the subject of major retrospectives around the world, attracting crowds of visitors, seduced in particular by its "infinite" environments, invaded by peas, light-emitting diodes, balloons or psychedelic patterns.

Since 2017, a museum has been dedicated to him in the city of Tokyo.