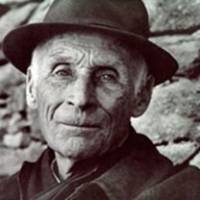 Bram VAN VELDE
Biography
+
Follow Bram VAN VELDE
Bram van Velde is a Dutch painter born October 19, 1895 in Zoeterwoude, near Leiden Netherlands).
He entered in 1907 as an apprentice in a painting and interior decoration company in The Hague, he is encouraged in his art by Eduard H. Kramers and his son Wijnand, collectors and amateurs sensitive to his talent. In 1922, Kramers encouraged van Velde to travel, perhaps to improve himself and pay him a small income. The latter goes to Munich, then settles north of Bremen, Worpswede, where since the 1890s there is a colony of expressionist artists.
He leaves Worpswede to settle in Paris. His career took off, and in February 1927 he went to Bremen to exhibit his works. He followed in April on the Jury-Freie Kunstschau of Berlin, and is admitted, along with his brother Geer, to the Salon des Independants in Paris.
It was in 1939 that the artist created his own plastic language, with the first of three great gouaches that would establish the autonomy of his art. He stopped painting in 1941, he "no longer has the strength to continue his work," according to what he wrote around 1945, only to resume in the autumn of 1945.
In 1958 Franz Meyer organized the first museum exhibition at the Kunsthalle Bern. Since 1961, the pace of exhibitions is accelerating, its standard of living suffers. Van Velde oscillates between Paris and Geneva, where he began painting before settling there in 1967.
France named him Knight of the Order of Arts and Letters in 1964, Holland awarded him the Order of Orange-Nassau in 1969. In 1973, he painted in La Chapelle-sur-Carouge some great gouaches who are like a last "wild" display of color in his work.
He died on December 28, 1981 in Grimaud and is buried in the cemetery of Arles.