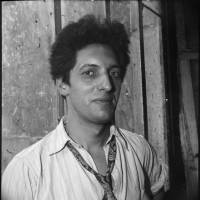 Jean-Paul RIOPELLE
Biography
+
Follow Jean-Paul RIOPELLE
Born in Montreal in 1923, Jean-Paul Riopelle is one of the great Canadian artists of the 20th century.
In 1941-42, he studied at the École polytechnique de Montréal. In the evening and on Sunday he draws nature. He is interested in perspective and practices photography. In 1942-45, he took classes at the École des Beaux-Arts and enrolled in the School of Furniture. It is there that he meets the painter Paul-Émile Borduas who becomes his teacher. With Borduas, Riopelle made her first abstract works. He also attends Ozias Leduc and William Morrice.
In Montreal, in the aftermath of the Second World War, he is a member of the Paul-Émile Borduas automatism group. These Automatistes montréalais deduced from the surrealist principle of the dictation of the unconscious a truly plastic theory.
In 1946, he traveled to Paris and New York. He then returns to live in Paris where he organizes an exhibition of the automatist group. He meets writers close to surrealism like Aimé Césaire and painters like Picabia, Nicolas de Staël.
In France, at the beginning of the 1950s, Riopelle played a role in the movement of abstract painting, with lyrical abstraction, illustrated by his "mosaics". His style evolves enormously. He experimented in turn with a wide variety of techniques: brush-applied paint, impasto of layers of material similar to sculpture, projection of paint filaments, application of paint by means of knives. He is supported by the New York merchant Pierre Matisse, and has for friends the American painters Sam Francis and Joan Mitchell, his companion for nearly twenty-five years.
In 1958, he began modeling sculptures again.
Later, in the 1960s began a return to figuration and under the patronage of Aime Maeght, Riopelle participates in the development of modern printmaking.
He died in 2002 at Isle-aux-Grues.