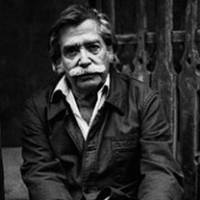 Antoni CLAVE
Biography
+
Follow Antoni CLAVE
Antoni Clavé is a Spanish painter born on April 5, 1913 in Barcelona.
After working in the building, he returned to the Beaux-Arts in Barcelona in 1930, for two years.
Forced to leave Spain during the civil war, he fled to France. In Paris, he became a stage designer and illustrator (Carmen, Gargantua). In 1941, he set up his first studio at 45 rue Boissonade in Paris and then 4 rue de Châtillon.
In 1942, March 20, birth of his son Jacques and meeting Picasso in 1944, it is a revelation. He worked with Roland Petit in the early 1950s but he decided to paint and stop the decoration in 1954.
Clavé works hard. Unclassifiable, neither figurative nor abstract, and both with his strength and mystery, he also liked collages and willingly indulged in the randomness of creation. As for sculpture, he only took an interest in it at the beginning of his career and then much later. Antoni Clavé left Paris for Saint-Tropez around 1965. In 1977, he laid his first trompe l'oeil.
The National Museum of Modern Art in the city of Paris devoted a retrospective in 1978. The Venice Biennale exhibited more than 100 works in the Spanish Pavilion in 1984. A César / Clavé exhibition was presented in Montélimar in 2007. For the centenary of the birth of the artist in 2013, the Fundación Vila Casas in Barcelona organizes a retrospective of his work.
Antoni Clavé dies on August 30, 2005 in Saint-Tropez. He is buried in Paris, in the Montparnasse cemetery.