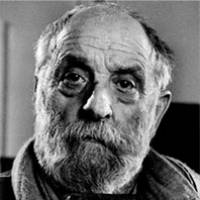 CÉSAR (BALDACCINI)
Biography
+
Follow CÉSAR (BALDACCINI)
César Baldaccini was born on January 1, 1921, in Marseille, where his father ran a wine business. In 1935, he enrolled in preparation for the Beaux-Arts in Marseille which allowed him to join, in 1943, the Ecole Superieure des Beaux-Arts in Paris.
He stayed there until 1955 to gain access to the material benefits of student status. His first works date back to 1947. He says he was compelled for lack of money to search for the least expensive materials. His first public commission dates from 1951.
In 1949, he learned how to weld with the bow, a technique that he would use at the metal furniture factory Malma de Villetaneuse, which housed his workshop in 1954. This is where he produced, for 12 years, more than 300 works made of metal rods, bolts, sheets and plates recovered.
In 1954 he exhibited for the first time at the gallery Lucien Durand in Paris. His fish (3.50m) wins the Trois-Arts prize. From then on, exhibitions and prices follow each other. In 1960, he began to compress, but he attacks large dimensions when he discovered the Big Squeeze for cars. In 1965, César discovered the pantograph enlargement and applied it to his thumb. The 2.50m work is intended for an exhibition on the hand, at the Claude Bernard Gallery in Paris. It will thus enlarge body parts in various materials: polyester resin, Baccarat crystal, bronze, pink marble, stainless steel, cast iron, aluminum, etc. However, her expansions were too heavy.
In 1967, he discovered a very light material: polyurethane foam. This is the beginning of the expansions. It is about flows of foam that he channeled, grouped, superimposed, cut, sanded, lacquered, etc. For the record, in 1975 he was commissioned the sculpture that will reward the French film charts at the ceremony of César.
He died in 1998 in Paris.