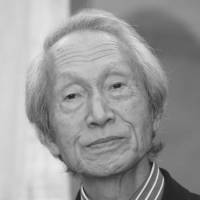 Shoishi HASEGAWA
Biography
+
Follow Shoishi HASEGAWA
Shōichi Hasegawa is a painter of mixed technique, engraver, draughtsman.
Student of the Kokuga Institute in Tokyo and initiated to the engraving in "l'Atelier 17" of Stanley William Hayter in Paris, where he arrives in 1961.
He participated in many group exhibitions, especially for engraving: 1962 Salon de la Jeune Peinture in Paris, 1963, 1964 Salon des réalités nouvelles à Paris, 1963, 1965, 1967 Biennale Internationale de Gravure à Ljubljana, Since 1963 Salon de la Jeune Gravure Contemporaine in Paris, 1966 International Engraving Biennial in Krakow ; in 1968 he obtained the First Prize for Engraving at the International Exhibition of Como, then he obtained many other prizes worldwide.
As an abstract, he synthesizes Far Eastern calligraphy, traditional symbolism of forms and colours, and Western new expressions.

On coloured «tachist» backgrounds, are engraved in white decorative graphic motifs in the tradition of popular Japanese imagery.